There is a vast demand for experienced-based holidays; the rich are increasingly looking for exceptional locations and itineraries that are unique and where memories will last a lifetime.
Hawk Yachts has put together various commercial investment propositions that capture this market and produce numerous superyacht experiences for an ever-increasing demand. Many of these experiences are only accessible by sea, and only in relatively small superyachts.
There are 33m HNWIs and 226,450 UHNWIs, 4 million individuals have assets of between $5m and $50m, and according to Wealth X 2017 report, the number of UHNWIs will increase by 72,000 by 2021.
The desire to ostentatiously display wealth is becoming less appropriate, especially for the younger wealthy. Buying high-value items such as jewellery, perfume, watches, fashion and cars will continue. But the younger rich are increasingly substituting the purchase of large wasteful fixed assets such as yachts, houses, jets and helicopters with rentals and charter. They do not want the high responsibility of ownership preferring the flexibility of rental. As one Family Office said just week, "People don't buy anymore".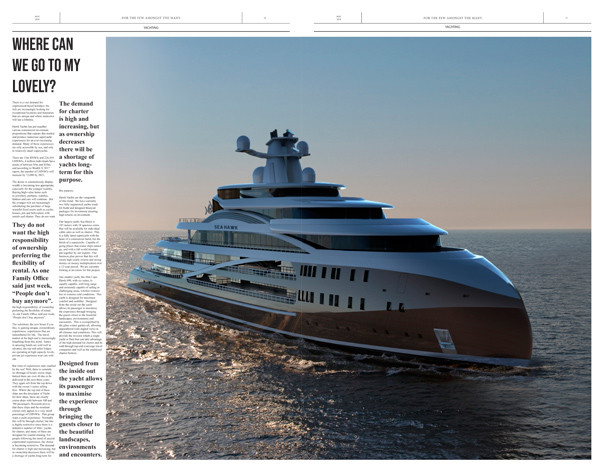 The substitute, the new boast if you like, is gaining unique, extraordinary experiences, experiences that are remembered for life. The travel market at the high-end is increasingly benefiting from this trend. Suites in amazing hotels are sold well in advance, the top end safari lodges are operating at high capacity levels, private jet experience tours are sold out.
But what of experiences only reached by the sea? Well, there is certainly no shortage of luxury cruise ships. Indeed there are over 40 due to be delivered in the next three years. They again sell from the top down with the owner's suites selling first. Whilst the top end of these ships use the descriptor of Yacht for their ships, these are clearly cruise ships with between 100 and 700 passengers. Research proves that these ships and the resultant cruises only appeal to a very small percentage of UHNWIs. This group want a yacht experience. Normally this will be through charter, but this is highly restrictive since there is a definitive number of 40m+ yachts for charter, and many of these are designed for coastal cruising. For people following the trend of special experiential experiences, the choice is becoming restrictive. The demand for charter is high and increasing, but as ownership decreases there will be a shortage of yachts long-term for this purpose.
Hawk Yachts are the vanguards of this trend. We have currently two fully engineered yachts ready for build and designed financial packages for investment ensuring high returns on investment.
Our largest yacht, Sea Hawk is 103 meters with 18 spacious suites that will be available for individual cabin sales as well as charter. This is a fully fared superyacht with the heart of a commercial build, but the finish of a superyacht. Capable of going places that cruise ships cannot go, and with a full world itinerary put together by our experts. Our business plan proves that this will return high yearly returns and strong money on money multiplication over a 12-year period. We are currently looking at investors for this project.
Our smaller yacht, the 48m Cape Hawk 690, with six suites, is equally capable, with long range and eminently capable of sailing in challenging areas, whether extreme hot or extreme cold conditions. This yacht is designed for maximum comfort and usability. Designed from the inside out the yacht allows its passenger to maximise the experience through bringing the guests closer to the beautiful landscapes, environments and encounters. This is exemplified by the glass winter garden aft, allowing unparalleled wide angled views in all climates and conditions. This will provide the investor which a single yacht or fleet that can take advantage of the high demand for charter and be sold through top-end concierge travel companies and well as the traditional charter brokers.