Hawk Yachts displayed at the Dusseldorf BOOT this week launching the Cape Hawk 690 as the latest incarnation of Hawk Yachts. The stand received great feedback and we look forward to meetings with all interested parties.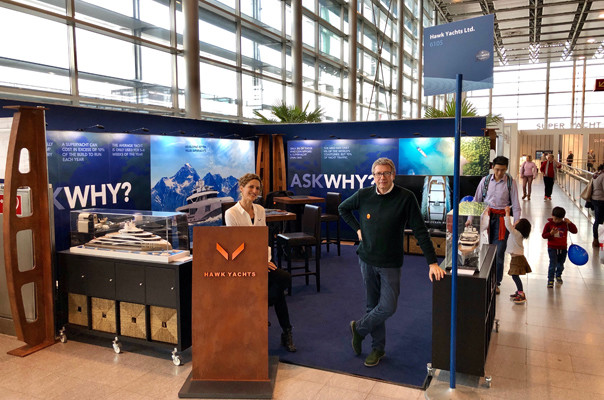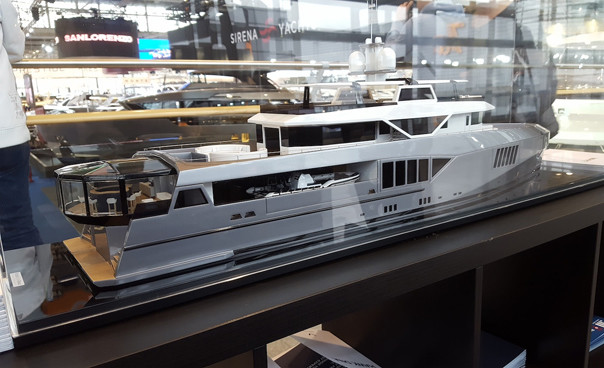 Through launch of the Cape Hawk 690 we are presenting a concept of yacht ownership based on investment return, challenging the status quo of the superyacht industry.e believe that the current superyacht industry as it stands is not sustainable. Fresh thinking needs to be employed in order to grow a market that currently is limited to a penetration of only 3%.
The barriers to entry for many potential owners are clear; high build costs, exorbitant running costs and lack of design purpose being but a few.
Hawk Yachts is presenting an ownership model based on the desire for value and usability. We believe this will attract a new type of owner; one based on investment return and greater experience. Cape Hawk 690 has been designed to offer the owner a year-round season with a more capable, sea-worthy yacht. This design is commercial at its heart, but retains the beauty of a true superyacht. Designed from the inside out, we have concentrated on the owner/guest experience and an intensified sense of involvement with the surrounding scenery and passing wildlife; whether that be the fjords of Chile, polar bears on the ice, or indeed passing the Statue of Liberty on a bright clear morning.
Value is at the base of our concept, with major engineering and build to be undertaken by commercial yards and superyacht finish controlled by an experienced superyacht build team. Interior design will be budgeted and controlled with usability, adaptability and high comfort being at the centre of the concept.
We expect that many of our potential customers will require a strong return on their investment. Many will only plan to use the yacht for limited periods and will be wanting to maximise charter revenue during the remainder of the year, and with a short Mediterranean season of 4 months this revenue is clearly restricted. Open out the season to a full 12 months, however, and a more interesting scenario emerges. Increasing interest in more diverse geographical charter locations and a huge demand for high-end experiential holidays will provide greater revenue opportunities not only off-setting the running costs, but if planned properly and sold correctly, offering the opportunity for profit.